An ester is one of many moieties in organic chemistry and consists of a carbonyl with an alkoxy group directly attached to the carbonyl carbon.
Structure and electron distribution
Here's the Lewis structure of an ester, specifically methyl ethanoate. On the left, the green numbers show the electronegativity values of carbon (2.5) and oxygen (3.5). On the right, we have the partial charges that help explain the reactions below.

Lewis structure and dipoles
The general formula of an ester is RCOOR, and you can replace the CH3 groups above with R to visualize the proper connection or linkage.
Ester vs ether
Students often confuse esters and ethers, so let's take a look at the difference between their structures:

Ester and ether
Generally, the properties of esters and ethers are pretty different. For example, ethers are stable under basic conditions but esters are not.
Reactions
Fischer esterification
The Fischer esterification is a great way to make an ester from a carboxylic acid. It is a reversible reaction between a carboxylic acid, an alcohol, and a Bronsted acid catalyst. Let's take a look at the mechanism below: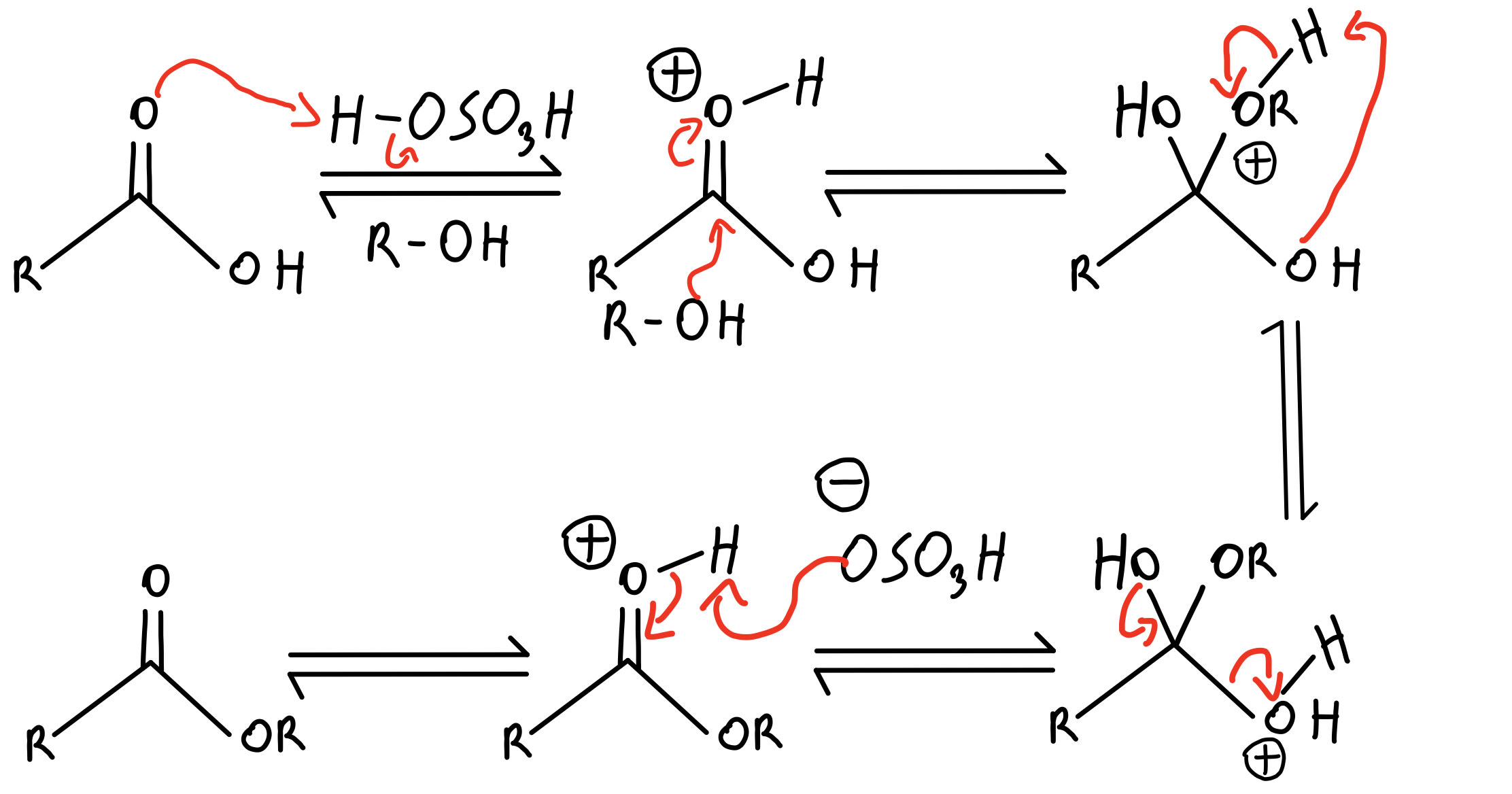 Fischer esterification mechanism
The protonation of the carbonyl oxygen creates a very electrophilic carbon because of resonance, and the nucleophilic oxygen of the alcohol attacks it. The catalytic acid makes it easier to attack the carbonyl and promotes nucleophilic acyl substitution.

Protonated carbonyl resonance
Transesterification
Let's say we want to convert methyl ethanoate to ethyl ethanoate (learn ester nomenclature here). How can we accomplish this transformation? It's just a question of using the right nucleophile! We can use the same acid catalyst and just use ethanol as the alcohol. The ethanol will replace the methoxy group as the alkoxy group.
Transesterification with H2SO4
Hydrolysis of ester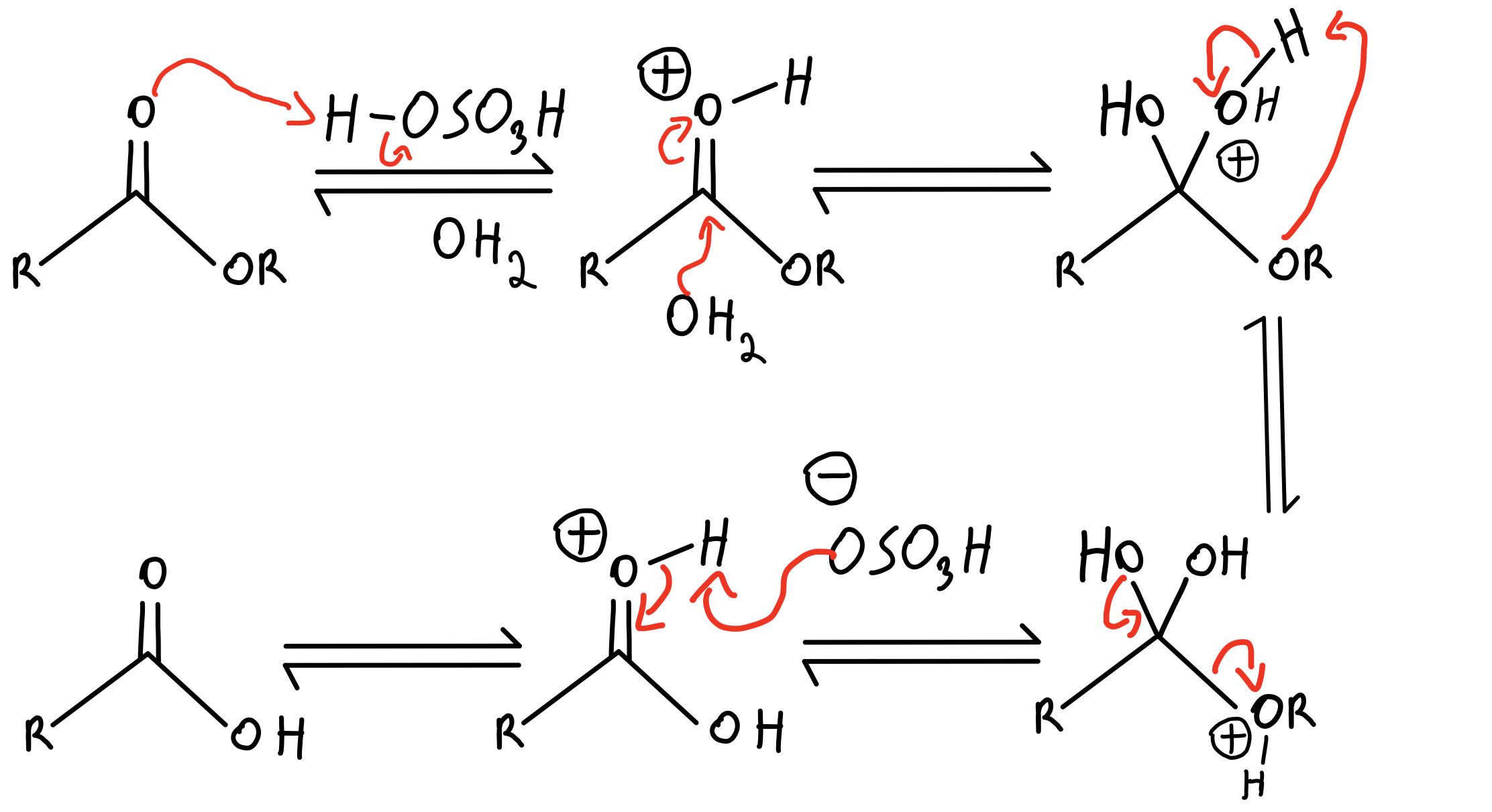 Acidic hydrolysis
Saponification
If we use hydroxide on an ester, we'll end up with a carboxylate. If a carboxylic acid is desired, an acid is added to the solution after the carboxylate has been made. In this reaction, we used sulfuric acid in the last step.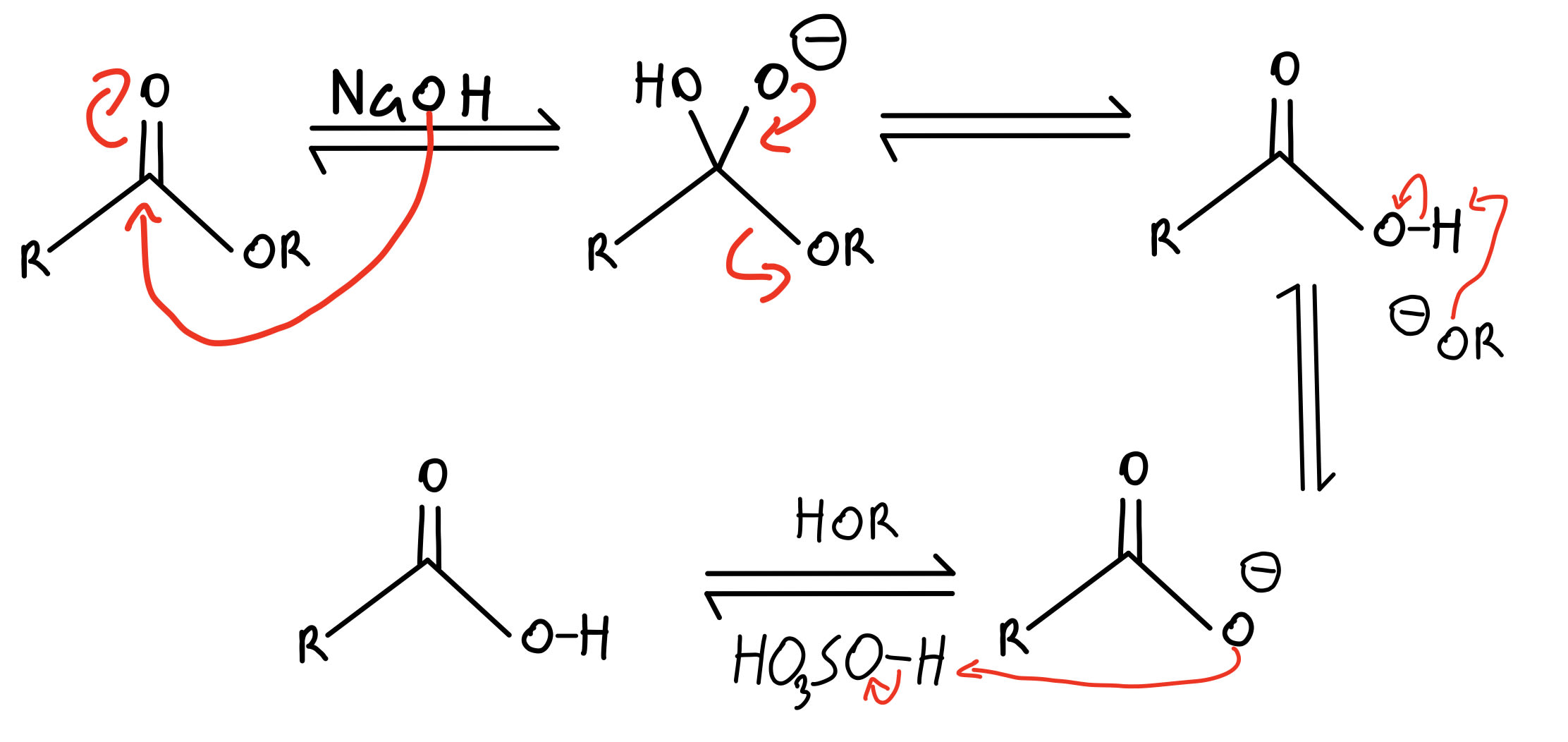 RCOOR to RCOOH with base
Saponification is actually how soap is made! You treat a triglyceride with lye (hydroxide) get a carboxylate (the soap) and glycerol.
Basically, there are two ways to go from an ester to a carboxylic acid! Base or acid can be used, but the basic conditions of saponification require an extra step to result in the hydroxyl group!