Conjugate acids and bases
In this guide, we take a look at what's meant by a conjugate. Now, we have conjugate acids and conjugate bases.
Conjugate acid
For a conjugate acid, all you're going to do here is you're going to add an H+ to the compound. It causes the charge to become more positive for that compound or element. For example, here we have hydrogen phosphate. We're going to say here you're starting off with a charge of minus 2. I'm going to add an H+ to it, so it becomes H2PO4. But remember, we're not only adding a hydrogen, we're adding a plus one charge to it as well. This is going to cause the charge to become more positive. We're going to go from being -2 to being -1. Now we have dihydrogen phosphate which is H2PO4-. This would represent the conjugate acid of this compound here.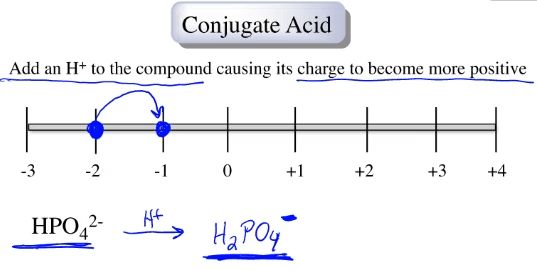 Conjugate base
Conjugate base is the exact opposite. For conjugate base, all you do is remove an H+ from the compound causing its charge to become more negative. Here we have HS-. We're going to remove an H+ from it. It started off as -1, but now it's going to become more negative because you're also losing a +1 as well as that hydrogen. Now it drops down to its new charge of 2-. This sulfide ion represents the conjugate base of HS-.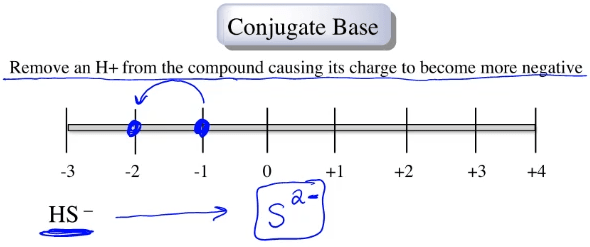 Summary
Remember, figuring out the conjugate acid or conjugate base of something is really simple if you just remember the following: Conjugate acid, you add an H+, the charge becomes more positive. Conjugate base, you remove an H+, charge becomes more negative for the compound or the element.