Second and third laws of thermodynamics
During any chemical reaction or process, there's a transformation of energy that's involved. The portion of the energy that cannot be converted into mechanical work, that represents entropy which we sometimes refer to as chaos or disorder.
Here we're taking a look at phase changes. These phase changes can either increase entropy or they can decrease entropy. If we're taking a look at the left, if we're going from solid to liquid, we call that melting or its more scientific name, fusion. If we're going from liquid to gas, that's just vaporization. Then we can go straight from solid to gas by skipping the liquid phase. That's called sublimation. In all of these processes, we're saying that the distance between molecules increases. Since entropy, which is delta S is chaos or disorder, as the molecules spread farther apart from each other, there's an increase in entropy, chaos or disorder. As a result, the sign of delta S will be positive.
On the other side, we go from gas to liquid. We can call that condensation. Or we can go from liquid to solid which is freezing. Or we can just skip the liquid phase altogether and go from gas to solid and that's deposition. In these phase changes, the molecules are coming closer and closer together so our substance is becoming more organized. As a result of this, there's gonna be a decrease in my entropy. So delta S itself will be negative in terms of its sign.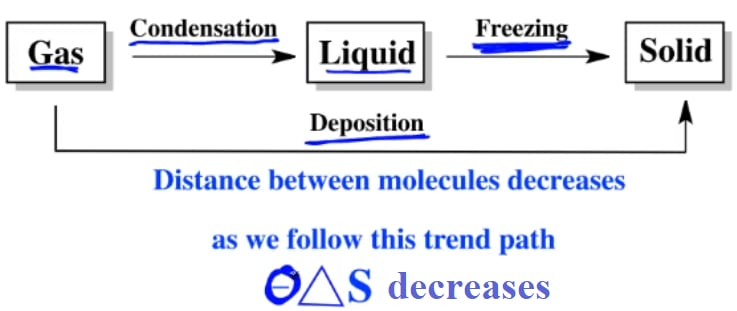 Summary
Just remember, delta S is entropy which is sometimes called chaos or disorder. We're gonna say an increase in entropy causes a positive sign for delta S. A decrease in entropy is a negative sign for delta S. If you still need additional practice in terms of this concept, make sure you take a look at our chapter dealing with chemical thermodynamics where we try to integrate spontaneity with this idea of entropy.